Welcome to Beautiful Jodelle - Your Source for Jodelle Ferland Media, a fan site created for actress Jodelle Ferland. She is most known from Silent Hill where she played Sharon/Alessa you may also know her from Kingdom Hospital where she played the ghost girl Mary. Here you will find news and information about Jodelle, Image Gallery, and the Largest Online Media Section..
Any questions please contact me

Click here to Subscribe to Beautiful Jodelle News
A new year is here and with it comes a new theme for the site, may you have have a wonderful new year and it be all you wish for.  Happy New Year 2015.
No comments yet
Posted January 1st, 2015 by Anthony
Jodelle is going to be in a new tv series called "Dark Matter" which set to premiere on Syfy channel in summer 2015.
"In Dark Matter, the crew of a derelict spaceship is awakened from stasis with no memories of who they are or how they got on board. Facing threats at every turn, they have to work together to survive a voyage charged with vengeance, betrayal and hidden secrets." credit: syfy.com/darkmatter
No comments yet
Posted December 19th, 2014 by Anthony
It that time of year again, created a Christmas theme for the site since is one of Jodelle's favorite holidays. Hope you all have a nice holiday season.
1 comment
Posted December 1st, 2014 by Anthony
I have added screencaps of Jodelle in the movie A Warden's Ransom to the gallery. They can be viewed in the A Warden's Ransom screencaps album.
No comments yet
Posted October 18th, 2014 by Anthony
Today October 9th, 2014 Jodelle Turns 20 years old. Beautiful Jodelle would like to wish her a very happy birthday!!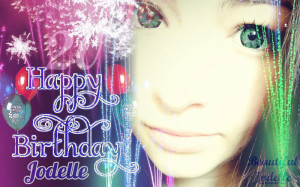 1 comment
Posted October 9th, 2014 by Anthony
Jodelle has a new movie coming out called "A Warden's Ransom" it will Premiere on Lifetime October 11 at 8:00pm EST.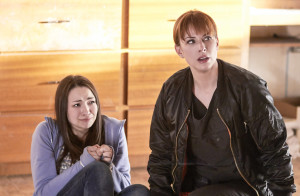 Premiere
1 comment
Posted October 6th, 2014 by Anthony
Jodelle took a selfie of herself that she posted on twitter which I think she is gorgeous in so had to create a new theme from it cause it exemplifies the site name Beautiful Jodelle. Hope you all like it.
No comments yet
Posted April 6th, 2014 by Anthony
Hello I noticed that have not posted anything on the site since November and so sorry about this and do not want anyone to think the site has been abandoned as still a big supporter of Jodelle. As for news on Jodelle there is not much going on from what I have seen. There are a few kickstarter type projects but have not mention information about them cause there not a lot known about them and those type of projects from past experience tend to not get completed or take years to get done. Hope everyone is doing well.
1 comment
Posted March 15th, 2014 by Anthony
Older News